In this post, I will review the book AutoCAD 2014 A Problem Solving Approach and provide a feed back on the pro's and con's to help you purchase the book or not.
AutoCAD 2014 A Problem Solving Approach
The book AutoCAD 2014 A Problem Solving Approach – is written by Prof Sham Tickoo, from Purdue University and from CADCIM Technologies. This book A Problem Solving Approach has been a continuing series since AutoCAD R 14 and has been well written. Let's review in detail.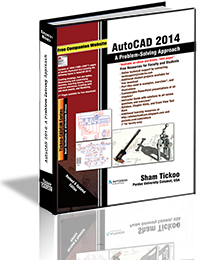 Click the above Image to Know More >>>
Disclaimer – Before I proceed with the review and rating of the book – I did not receive the book for free to write a review, but instead I purchased a copy and sharing my review as a blogger that can help millions of users to learn and benefit from purchasing this book.
Table of Content for AutoCAD 2014 A Problem Solving Approach

The books table of content is well structured right from introduction to advanced topics within AutoCAD 2014. So for a beginner I personally feel can easily able to understand and put to action after learning from the book.
Chapter Beginning
Each chapter is well written with the objectives of each chapter showcased and what are the different learning outcomes. Ideally I would say the Author has followed the Bloom's Taxonomy   making learning a fun and remember the various concepts. The chapter also showcases key words for each chapter which is easy for a intermediate and advanced user to learn / brush the basics and master advanced concepts. 4.5 / 5
Illustrations
The book images / figures a are well illustrated and better explained. However, using arrows could have been better made, by using Snagit Software.   But overall I would suggest that figures could have been better captured and presented in a simple manner. " Especially the introduction chapter image on different parts of AutoCAD Software needs improvement in the next release. But over all Rating of 3.5 / 5 for the Illustration.
Exercises / Tutorials
The books exercises is well prepared and I would suggest its the best book in town for an AutoCAD Beginner. Simple and neatly prepared tutorials explaining each concept better. 4.5 / 5
Question & Answers
The book chapter contains better information on AutoCAD 2014 New features, listing and explaining them, so that its targeted for those who are willing to learn more on AutoCAD latest release and also featuring Question and Answers on important points within the chapter, there by validating your knowledge gained from the particular chapter. 4.5 / 5
Links to Download
In case you are a faculty member – links to download AutoCAD 2014 Software from different sources of Autodesk website is listed which includes ADN, Students Website, Free Trial and much more, which help you to educate students are listed. 4.5 / 5
Free Teaching Resources
This is the only book in town which features a download link to teaching resources where you can get ppt content to directly teach in the class get solutions to chapter exercises and much more. So one book helps you teach AutoCAD both at class and at lab.
Pricing
I would suggest the pricing is the best for the exhaustive content provided. Its worth the pricing.
Certification Content
This book contains information on various certification related content that can help you pass the AutoCAD 2014 Certified User Exam and gain better competitive position when applying for a job related to AutoCAD.
Some of the features of this text book are:
Consists of 36 pedagogical sequenced chapters covering the application part of AutoCAD.
The first page of every chapter summarizes the topics that will be covered in it.
Real-world projects and examples focusing on industry experience.
Step-by-step examples that guide the users through the learning process.
Additional information is provided throughout the textbook in the form of tips and notes.
Self-Evaluation test and Review Questions are provided at the end of each chapter so that the users can assess their knowledge.
Step-by-step instructions promote efficient use of the software while strengthening the problem-solving skills.
Usage of commands and shortcuts to increase efficiency of the users.
Dual emphasis on conceptual learning and hands-on practice leads to a thorough understanding of AutoCAD 2014.
Latest enhancements in software like Inventor Fusion, Drawing Views, and In-canvas Viewport Controls etc. have been added.
Overall I would rate this book a 4.5 / 5 for the cost and content made available in the book. In case you are interested in purchasing the Book use the link below to purchase.